In 2016, CSGOROLL made a major comeback with its innovative design and is now one of the most popular CSGO gambling platforms.
This article provides an in-depth look into the platform to make it easier for players to understand the withdrawal and deposit methods. With clear instructions, users can easily navigate the platform and ensure their transactions are secure.
Intro:
Players can withdraw the skins they won from the website. Players need to redeem them for skins in the Steam account for withdrawal. 
Players have to tap on the 'withdraw' button for that. One ought to have a balance for withdrawal. One must have a balance to withdraw skins.
What is difference between Instant skins and Escrow skins for withdrawal
Specific requirements and limits are there for withdrawals from the CSGOROLL platform. All items can be in the 'Instant' or 'In Escrow' categories.
Readily available skins are listed as 'Instant.' One can withdraw it subject to meeting withdrawal and eligibility requirements.
A player must make at least one successful deposit to be eligible for skin trading via a Steam account. 
Instant items are available in stock or through the P2P trading system of the website.
Skins listed 'In Escrow' becomes available after a waiting period ranging from a few hours to days. However, the maximum waiting period is seven days from the date and time of the request.
It is unrelated to the website but connects to the 7-day lock imposed on skin trading. Players can track the movement of the skin.
Can I cancel withdrawal requests?
It reserves the right to cancel withdrawal requests in the following circumstances. 
If the delivery of the requested item is not possible due to a third-party block.

If the user's profile makes the request gets flagged in the process.

Failure to meet P2P trade offer requirements
Players can contact the support team via email for further guidance.
Are CSGOROLL's Skins readily available for withdrawal?
Not all CSGO skins are readily available. The site holds a refund system for the non-availability of skins. 
The platform might suggest a currently available skin instead. Steam also has different requirements for withdrawal.
What happens if there are hardships to withdraw skins?
If the skin requested is available, but the process is failing, one should consult the checklist to find out why. 
The Steam account ought to be trade-ready for this. Also, check if there is a skin receipt within the last week. Such things cause trading restrictions for seven days.
Try after a few minutes if everything is normal; else, contact the support team.
Depositing skins on CSGOROLL
The first step to understanding the deposit system is to look at how players wage. The website uses coins for transactions.
But the exchange system is confusing. 
Every coin costs $0.7. It confuses users as they tend to think one coin is equivalent to $1.
Players can tap the 'Deposit' button. 
The button is in green, so users might need help locating and clicking on it.
One clicks on the 'Deposit' tab and displays the 'Deposits' page. It has appropriate spaces to fill out the desired amount and the payment method.
It supports the following deposit options: 
Credit cards (Visa, MasterCard)

CSGO skins (Steam)

Cryptocurrency (BTC, BCH ETH, LTC) 

PayPal (Gift cards)
CSGO Skins Deposits
Players must adequately set up their Steam accounts to deposit CSGO skins on CSGOROLL.
 Skin deposits are like P2P trading. Players deposit skins by exchanging them with other users.
The platform holds the responsibility for handling the process. Users must deposit skins and confirm the transaction to enjoy gambling. Continue reading to know more.
Credit Card or PayPal deposits
Some users exclusively prefer to fund their gambling ventures with real money. They always use Credit Cards or PayPal. It accepts them as a valid deposit mode that users can find on G2Play or Kinguin.
Players must confirm after entering the deposit amount and selecting the payment option to complete transactions. The funds undergo automatic transformation into coins.
Crypto deposits
It supports BTC, BCH, ETH, and LTC. Players must have a minimum crypto deposit in their wallets for making deposits. Crypto deposits involve some fees due to blockchain formalities.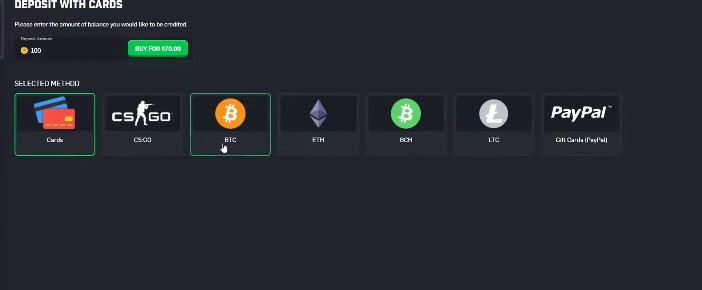 Many users opine that LTC is most suitable for smaller amounts. However, Bitcoin happens to be the most favorable for a big wage. Players have to wait for some time after confirmation to complete the transaction.
Claiming a deposit bonus
It is one of the most generous CSGO gambling sites in the world.
Besides offering daily free cases and regular giveaways, the platform has free codes offering generous deposit bonuses.
What happens if there are hardships to deposit on the platform?
Check if the Steam profile has a public setting with the correct trade URL. If the Steam account is ready for trade and suffers from no apparent processing issues, the problem could be due to complications in the Steam connection.
Try after a few minutes if everything is normal; else, contact the support team.
Frequently Asked Questions
Here are concise answers to users who frequently ask about withdrawal and deposition on CSGOROLL.
Is CSGOROLL Legit
Yes. The platform features provably fair gambling and secure payment modes for deposit and withdrawal.
Are Withdrawal Bots allowed?
CSGOROLL is against it and prohibits users from using withdrawal bots as it results in unfair competition and a gloomy user experience.
It indicates a non-stock skin. Players can select items in stock or sell those for coins and request something in the P2P section.
What payment methods are available for deposits?
Players might choose from Visa, MasterCard, PayPal, BTC, BCH, ETH, and LTC.
How to get coins?
Players can purchase coins through the available payment methods. Alternatively, they can exchange skins for coins.
Can I claim a deposit bonus?
The platform offers a 5% deposit bonus through different promo codes. One can claim a $100 deposit bonus by depositing with cryptos or credit cards.