One of the most popular and trustworthy CSGO online casinos is CSGORoll, which provides classic games like Coinflip, Dice, and Roulette.
There are also case openings where players can take huge chances with the potential to win big. There have been reports of lucky gamblers getting stuff worth hundreds of dollars.
We review every aspect of the casino in this CSGORoll review, including the best cases to open and the potential for low-value items.
Things you need to know.
Players can open cases on this platform by going to the 'Unboxing' section. It has filtering options allowing users to sort cases based on price, popularity, and many other aspects. 
The section also lets users filter certain cases based on their odds, such as 50:50 cases, 10 percent cases, or 5 percent cases. Because of the straightforward layout of the site, users get a unique user experience fast.
Different cases have different prices. It ranges from 50 to 100 coins. It is only sometimes necessary that the expensive cases will yield better cost-benefit. However, the price is relevant for choosing an ideal CSGO case.
Shockwave
The cost of this case is 92.89 coins. It indicates that it falls into the expensive case category. 
This little beauty is an investment, not an expense, given the many benefits. 
One can have potential drops from the case that include rare CSGO skins from this case as below: 
 Karambit Shappire Knife

 Crimson Kimono Specialist Gloves

 Cool Mint Motto Gloves

 Slaughter Hand Wraps Gloves
The chickens
The case costs 57.82 and contains some unique items. It draws inspiration from the most beloved pets on CSGO and boasts a humorous approach giving users chances to drop some tough skins like: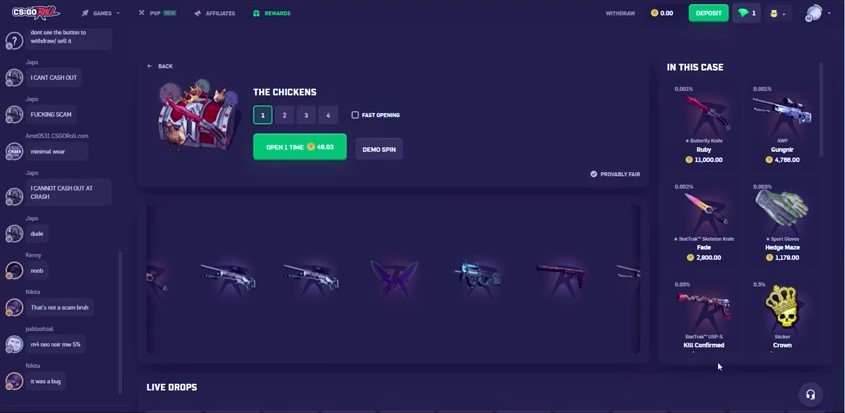 Ruby Butterfly Knife

 Case Hardened Hydra Gloves

 Gungnir AWP Rifle

 Disco Tech StatTrak MAC-10

 Bullet Queen StatTrak Glock 18

 Fade MP7

 Ghost Crusader SSG 08

 Decimator Tec 9

 Emerald Dual Berettas
Sunshine
Nothing indicates a better day than a beautiful morning with bright sunshine. 
It boosts the mood with the hope of passing a much better day. Likewise, the 'Sunshine' can deliver a nice feel-good experience to the users with a probability of having excellent drops. As the case costs only 52 coins, it becomes lucrative. Users can open this case with a chance to drop:
 Omega Sports Gloves

 Bronze Bloodhound Gloves

 Sunset Storm Desert Eagle

 Red Filigree Mac 10

 Candy Apple Glock 18

 Firestarter Mag 17

 Desert Storm M4A4

 Cold Blooded P90
10% Doppler
The cost of the case is 62 coins. It gives users a great chance to drop one hundred percent cool items.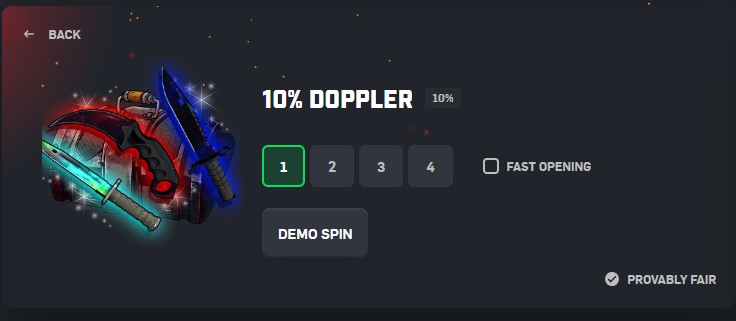 Players who are passionate knife fans might consider this case as an opening for the odds of dropping high-value blades. Users willing to take chances might enjoy drops like:
 Doppler Phase 2 Karambit Knife

 Doppler Phase 4 Gut Knife

 Doppler Phase 2 Stiletto Knife
Trance
It is a unique case that makes users dance because of the possibility of dropping solid CSGO skins.
Adorned with neon color and featuring a "vaporwave" design, the case has enough to improve your life. Opening this, users might gate neat skins like:
 Fade Skeleton Knife

 Slaughter Survival Knife

 Asiimov AWP Rifle

 Cardiac Scar-20

 Bloodshot SSG 8

 Hyper Beast Five Seven Pistol
Backstab
An actual combatant must have many abilities, especially for conducting secret operations. Stealth and precision are one of the most essential abilities among all that are needed.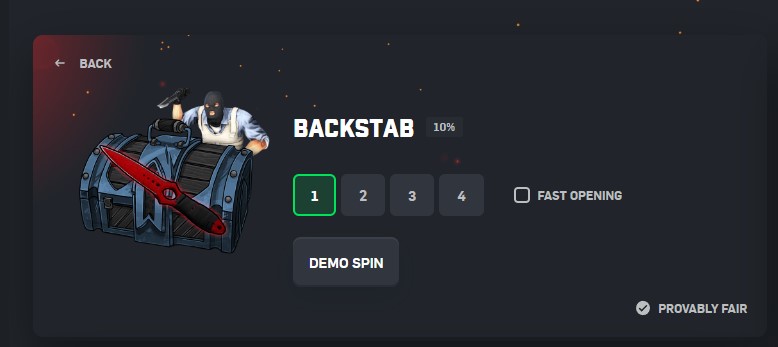 This is vital for both terrorists and counter-terrorists. They need to master the skill to survive in the harsh environment of CSGO combat. 
The 'Backstab' case is great to back up lucky gamblers, who can master this deadly art by practicing with tools. 
The case costs 60.63 coins, allowing one to drop the following:
 Crimson Web Skeleton Knife

 Crimson Web Survival Knife

 Stained Flip Knife

 Slaughter StatTrak M9 Bayonet

 Gamma Doppler Phase 4

 Cobalt Skull Gloves

 Case Hardened StatTrak AK47
Loaded Case
The 'Loaded Case' is full of excellent drops keeping parity with the name. Lucky players stand a better chance of receiving neat gifts for 89 coins, the case cost. By opening this case, one can witness the next drops:
 Sapphire Butterfly Knife

 Dragon Lore AWP Rifle

 Pandora's Box Gloves

 Howl StatTrak M4A4

 Emerald M9 Bayonet
Frequently Asked Questions
The following lines concisely answer the questions users frequently ask about CSGORoll cases.
Are the CSGORoll Cases results trustworthy?
Yes. All CSGORolls are one hundred percent provably fair. The system works with the help of an advanced encryption system. It allows gamblers to check the case results through the embedded hash system. No one can interfere, influence, or change the case opening outcomes. They are random and transparent without any bias.
Can one enjoy case battles on CSGORoll?
Yes. Gamblers can try their luck through exciting case battles. They can create a battle and go face2face other players to settle who opens the most valuable cases. 
Wrapping up
It happens to be one the best CSGO platforms for gambling. It offers many bonuses and games that operate on a provably fair system that delivers random, fair, and transparent outcomes.
Case opening could not be the way to make profits. It is a great stimulator that gives the thrill of getting something cool.