CSGO500 Review in 2023
Starting in 2016, CSGO500 has been running since then. This CSGO skin gambling platform is a haven for players to begin their gambling adventures. 
It offers a lot of excitement with a wide range of gaming options and rewards. With easy and smooth navigation, you can straight play all the games and interact with other users. Let's take a look at how the website shines.
CSGO500 deposit methods
It allows deposition using CSGO skins, CSGO P2P marketplace, Bitcoin (BTC), Bitcoin Cash (BCH), Ethereum (ETH), Litecoin (LTC), Tether (USDT), USD Coin (USDC), Tron (TRC20), Ripple (XRP), Stellar (XLM), EOS (EOS), Solana (SOL), DogeCoin (DOGE), Visa/Mastercard, Paysafecard, PayPal, and Google Pay
It does not allow direct deposition with CSGO skins or cryptos. These are converted into BUX, the virtual currency of the website.
CSGO500 withdrawal methods
One can use the following methods of withdrawals like CSGO skins, CSGO P2P marketplace, Bitcoin (BTC), Bitcoin Cash (BCH), Ethereum (ETH), Litecoin (LTC), Tether (USDT), USD Coin (USDC), Tron (TRC20), Ripple (XRP), Stellar (XLM), EOS (EOS), Solana (SOL), DogeCoin (DOGE), Visa/Mastercard, Paysafecard, PayPal, and Google Pay.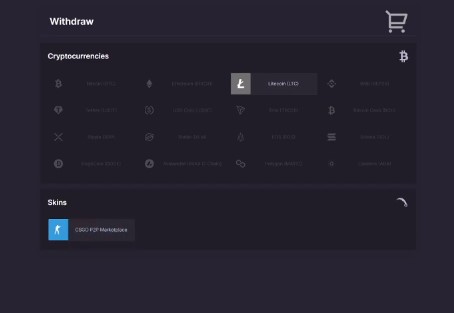 It does not allow direct withdrawal with CSGO skins or cryptos. These are converted into an equivalent amount of BUX, the website's virtual currency, for withdrawal.
Games available
It offers players unique game selection options. Players can play the following games besides betting on Esports and sports.
Wheel: It is easy to play. Players can bet on four colors with varying rewards. Black yields 2x, red 3x, blue 5x, and yellow 50x of the bet.
Roulette: It includes 15 slots in three colors. Red and Black have seven slots and yield 2x multiple (2:1). The Green has a slot that pays 14x multipliers (14:1). 
Crash: A multiplier increases as you bet on the game. You can cash out any time and win more later when the multiplier increases. Waiting too long is risky; you will lose everything if the multiplier crashes.
Duels: Four players can play this game. Each picks a color, and the wheel spins. The color that shows wins all the pot. Players can create duels or join existing duels.
Plinko: It is one of the trendiest games. It includes a pyramid of pins. There is a ball at the top of the pyramid. It falls through the maze of pins and eventually lands in a colored box that wins.
Casino: In this section, one can play traditional games like Blackjack and other live games.
Design & Layout
The background provides a good canvas to highlight everything on the home page to attract attention. One can choose the game one wants to play from the menu at the top of the page.
Players can also perform other tasks from here. It also includes a chat option that can be deactivated for playing without distractions. As the games appear in the middle, it offers great visibility.
Bonus & rewards
It offers several bonuses and free coins for players to try their luck. Players can claim these using the CSGO500 referral code.
Deposit bonus

: When players deposit funds on the website, they become eligible for the deposit bonus. Players can earn up to $1000 as a bonus and 50 free spins by depositing funds. They need to deposit At least $20 for this to earn a deposit bonus.

Daily rewards: 

Players get this reward for active playing on the website. They go to higher levels with more deposition and playing. Players can get this four times every 6 hours. It includes four multiplies depending on the level. The 1x multiplier has 67.50%, the 1.5x multiplier has 22.50%, the 2x multiplier has 9.95%, and the 100x multiplier has a 0.05% chance of winning.
VIP Program
The VIP program includes the following levels.
Silver (Level 500)
Gold (Level 600)
Saphire (Level 700)
Emerald (Level 800)
Rubi (Level 900)
Diamond (Level 999)
Each of the above has special rewards that increase with higher levels.
Key Features
Unique use experience: Having an almost instant registration process and a plethora of payment options, the website delivers a straight user experience
Provably Fair Games: The website works on a transparent, provably fair system that yields randomly generated results and prevents live game rigging. Players can easily check previous results.
Customer support: The website provides support within 24 hours via the live chat option.
Device compatibility: The website is seamlessly compatible with Desktop, Tablets, and mobiles.
CSGO500 Pros and Cons
Following is the list of the pros and cons of the website.
Pros
Established crypto casino
Licensed and regulated
Includes the best game selection and gambling activities
Fast and smooth navigation
Has more than five withdrawal options, including in-game items
Provably fair games
Offers sports betting
Includes seven crypto withdrawal options
Viewing in 12 different languages
Live chat support in 9 different languages
Easy registration
Cons
Unsupported countries
It does not work in some countries due to regional restrictions. Players should ensure their countries are on the list of accepted territories before signing up. Incorrect about of location and inability to provide sufficient proof in support of the location might block your account along with your winnings.
It is restricted in many countries, including Afghanistan, Aruba, Australia, China, France, French Polynesia, Iran, Israel, Japan, Lithuania, Malaysia, Malta, Netherlands, Puerto Rico, Syria, and the United States.
Is CSGO500 Legit?
The website is licensed and registered in Curacao. It has been running continuously since its inception in 2016 without any problem. 
Conclusion
CSGO500 is a strong and lively skin gambling website to start your gambling adventure. The website offers players many choices and allows different payment modes. It comes with unique features and offers easy and smooth navigation. The platform has many things to provide beginners and experienced gamers.