Case openings are a thrilling experience for many Counter-Strike: Global Offensive fans. It is a CSGO case-opening website that has become popular among players. This review looks at the features that make Farmskins such a great option.
Farmskins Review in 2023
Design & Layout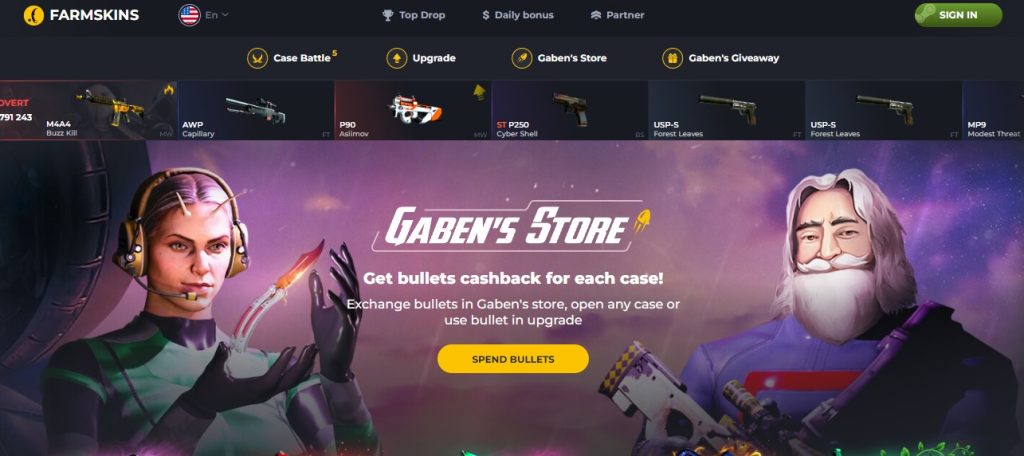 The platform boasts a dark background with colored cases. The page is accessible and has a dedicated case-opening section titled Gaben's Store.  
The site also has another section besides case opening. It is titled case battle. 
Players can ask others to battle or join an existing battle. This mode allows 2 or 4 users to battle, and one can add 30 cases.
It further boasts a section for upgrades. If one holds an accumulated stock of low-value skins, one can exchange the same for a better one by clicking the link. 
Players can choose a maximum of 6 skins for this and complete the transaction by clicking on the 'upgrade' button.
Signing In
The platform offers an easy signing-in process. Players must click the 'sign in' button at the top right-hand corner of the page.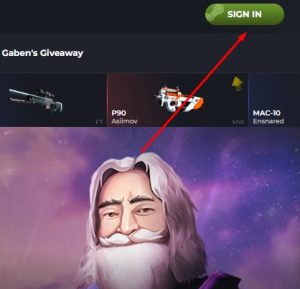 To complete the process, one must also provide the username and password in the required field and press the 'sign in' button.
Players can sign in through their Steam account using the QR code.
What is Farmskins?
It is a unique CSGO case-opening platform and one of the oldest in the genre. It boasts various cases valued from a few cents to hundreds of dollars. When one buys and opens the case, it entails dropping skins with varying values. Three probabilities are there. 
The value of the skin could be more than the purchase value indicating a gain. When the value of the skins is less than the purchase value, one suffers losses. 
And, when the skin values are the same as the purchased amount, it affects no gain or loss. 
The platform also has two other activities, case battle and upgrade. Case battle, let's invite other players to battle with skins. Or one can also take part in an existing battle.
Players can also upgrade several low-value skins by exchanging them with high-value skins. Daily bonuses and rewards are also there.
User Experience
Farmskins delivers a pretty cool user experience with its black back and yellow ground with visuals. 
The homepage displays different Gaben posters according to the seasons and promotional offers. 
One can easily navigate on the platform with absolutely no chance of getting lost. It also supports G2A Pay, which opens up many payment modes.
Games available
Farmskins entertain players with the following gaming options.
Case opening:

 Players can access many cases in different categories in the Gaben's Store and open a case according to their choice.

Case Battle:

 Players can create a battle with skins or join an existing battle. The player having the highest value skins wins the battle.

Upgrade:

 Allows exchanging low-value skins with high-value skins.
Deposits and withdrawals
Deposits
The platform supports the following deposit modes.
Bitcoin (BTC)

Ethereum (ETH)

Litecoin (LTC)

Bitcoin Cash (BCH)

Visa 

MasterCard

WeChat Pay

PayPal

PaySafeCard

Neteller

Skrill

G2A

WebMoney

Dotpay

Trustly

CSGO Skins
Withdrawals
Farmskins supports CSGO skins for payout modes.
Players can have skins in their inventory by opening cases, participating in case battles, and upgrading. Players can also sell CSGO skins by clicking the 'Sell' button and using the money to open other cases.
Bonuses & Promotions
The platform is heaven for CSGO skin gamblers. One can redeem a promo code upon registering and claiming a bonus.
The platform offers seasonal giveaways throughout the year on special occasions. As one opens a case, one gets bullets. Players can accumulate bullets to exchange with exclusive items like expensive skins.
The platform also offers daily bonuses to players. They can take part in the case battle and earn bullets. Farmskins also organize regular events and offer prizes. Players should follow the platform on social media channels to know about different offers.
Is Farmskins Legit?
Given no complaints against the platform, Farmskins can be considered a fair and legit CSGO case-opening platform.
The website enjoys thousands of monthly visitors and has millions of open cases without any issues. These account for the fairness and legitimacy of the platform.
Pros & Cons
Pros:
USD is the main currency

Interactive design & layout

Excellent user Interface

Case Opening, Case Battle, and Upgrade

Available in 10 languages

Supports G2A Pay

Mobile-friendly

Daily bonuses

Live chat
Cons
There is scope to improve customer service further
Frequently Asked Questions
What is Farmskins?
It is primarily a case-opening platform. It also has provisions for case battles and upgrades.
Why bullets are needed?
Bullets are like bonuses to open regular cases. Players need them to take part in events and also for opening cases. 
How to win bullets?
One has to open cases for this. Expensive cases stand a chance to win more bullets.
Is deposition a must for withdrawing items?
Yes. Players must deposit at least once for withdrawals. One needs to deposit a minimum amount of $4.
How to get a CSGO item?
Go to the profile page and tap the 'Accept' button. You will receive the item through a trade offer.
Can I refill the account via Steam wallet?
No. One can use the Steam wallet for purchasing only.
Summing Up
Farmskins is a great platform for opening a plethora of cases. It also allows players to battle with others using skins. Players can also update their low-value skins on the platform.
Providing much fun and excitement, the platform is a great place to play. However, one should always gamble responsibly.