Counter-Strike: Global Offensive is one of the most played esports titles, boasting an active user base of around 600,000.
For those looking to take their CSGO experience to the next level, it is a case-opening platform that allows users to get in on the thrill of gambling with just a few clicks. 
In this DatDrop review, we'll summarize all the platform's features.
DatDrop Review in 2023
It boasts an active community, allowing users to battle against others using skins. The platform uses a provably fair system that ensures fair and random outcomes. Users can also verify the integrity of the games played. 
Besides case-opening and battles, the platform offers upgrades and 'Battle Royale' to accommodate 72 players. This provides an exciting proposition for CSGO players. 
Design & Layout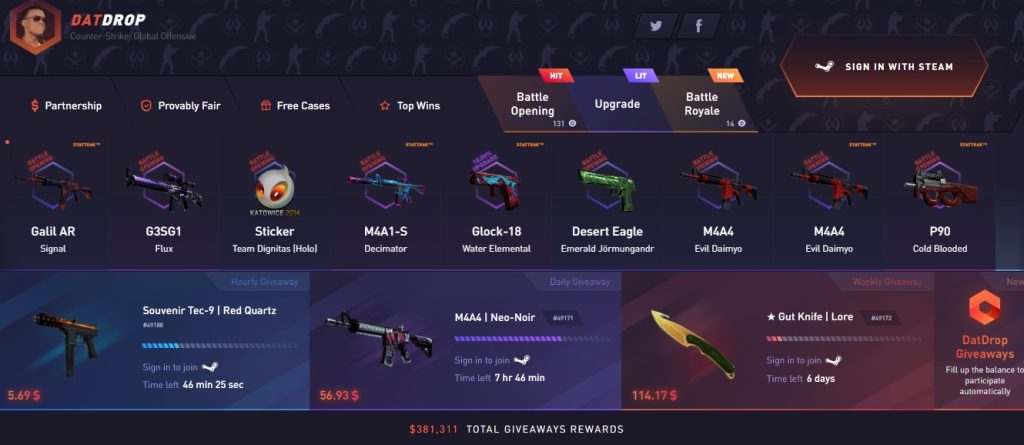 The platform boasts a dark background that adds to the page's visibility. The platform features a simple layout and is easy to navigate. Players must click on the small icons at the top of the page to access different gaming options.
DatDrop mode of working
The platform features different categories of boxes. Players can open them selectively by filing the balance first. Varieties of ways are available for un-boxing cases on the platform. 
The battle opening is the most popular option. Players can battle with others while playing in this mode. They can compete with random users or invite friends and acquaintances to create a private case battling session.
 In both cases, the user having skins of more value wins and gets everything.
How to deposit funds on the platform?
One must have some balance in the account for un-boxing cases. Users can deposit funds in their accounts through the following.
Ethereum

Litecoin

Skinpay

switchere

G2A Pay

GameMoney

Gift Cards
More deposit options could be there, depending on the location.
How to withdraw?
DatDrop allows cash out through CSGO skins only. One must go to the profile first to process a withdrawal. 
The account inventory displays a list of skins, and then one can request a withdrawal. 
One must fill in the Trade URL in the profile settings for transactions. The platform does not support the direct withdrawal of CSGO skins. 
One can do the same by converting the CSGO skins into Ethereum and then opting for cash out to an Ethereum wallet.
Players can also transfer funds to LootBear and Waxpeer sites and use them for purchasing CSGO skins. 
Alternatively, one can send funds to Coinbase to convert Ethereum into another currency and withdraw.
Bonuses and promotions
The platform offers several bonuses and promotions. Players can get free money when they make their first deposit.
The platform also offers many promotional offers that they advertise on social media channels. One can enjoy amazing bonuses and rewards by keeping track of them.
Leveling up in DatDrop
The users get free cases every day. Of course, the number and quality of the free cases depend on the level of the user.
The website offers five levels, and one can have anyone of them. The requirement for each level is as below:
Level 1- 3$

Level 2- 25$

Level 3- 50$

Level 4 -75$

Level 5 -100$
However, this can vary depending on the balance in the account. When one has more money in the account, it goes up. The level comes down when the amount decreases.
Provably Fair System
The platform uses a provably fair system to ensure that all case openings and battles are randomly coded and no one can influence or change the outcome. 
The website uses a random ticketing system to generate a random string for all games available on the platform. It ensures fair outcomes, which one can verify.
Customer Support
It is where the shoe pinches. The platform does not have any live chat option.
 Players can contact them via email only. Although they make fast responses, it is not the ideal situation for a gambling platform.
Is DatDrop Legit?
DatDrop has been around for several years. Millions of users patronize the platform in a month. 
It also uses a provably fair system that ensures proper and random outcomes, which one can verify. 
The padlock icon in the address bar also indicates that the website uses SSL encryption. It provides that the connection is secure.
Of course, safety is the first and foremost concern of gamers. DatDrop scores fairly well on this front. It has a high rating in the reviews done by trusted websites. It also has a social media presence on Facebook and Twitter. These indicate that DatDrop is a legit platform for CSGO gaming.
Pros & Cons
Pros
Massive library to choose from

Provably fair system

Available in most countries

Seamless User Interface

Developed games

Many payment methods

Offers bonuses and rewards

Supports ten languages

Works on PC, tablets, and mobiles
Cons
No live chat. Customer support is through emails.
Frequently Asked Questions
What is DatDrop?
It is a popular platform for CSGO case opening. Users can buy cases and then open the same for winning skins.
Is it legit?
It holds a license to operate as a case-opening website.
How to fill the balance?
Players can deposit funds using Credit cards (Zen, GameMoney), Cryptos (Ethereum, Litecoin), and CSGO skins.
Is it possible to use cryptocurrencies to deposit?
The platform supports direct deposits using Ethereum (ETH) and Litecoin (LTC). One must send ETH through the ERC20 network only.
Is it possible to deposit skins?
Yes. One can deposit skins using SkinPay.
Can I cash out the balance?
No. One can cash out skins only.
Final Verdict
It is one of the most notable platforms in the CSGO case-opening sector. As you read in this review The platform has many games and offers easy case-opening and exciting case battles. 
Despite providing customer support via email only, they respond fast and do not disappoint users. However, one should play responsibly, as gambling can be addictive.