CSGO500 is an online skin gambling casino that has been around for a while and has gained immense popularity among players.
 It allows players to bet on in-game items and offers a variety of options for deposits. This article provides an overview of the different ways to deposit on CSGO500. It also gives tips to help players make the most out of their deposits and maximize their chances of winning.
Understanding The Basics
Involving several domains, it is a classic choice for CSGO gamblers and players who prefer varieties in online gambling. For details, you can visit the website via 500play.com, csgo500.io, and csgo500.com. 
It will clear up any confusion.
CSGO500 offers a respectable gaming catalog with a large selection of games compared to gaming sites belonging to the old school. It allows players to experience the following gambling options.
Crash
Duels
Roulette
Fortune Wheel
Slots
Match Betting
The above games allow players to enjoy tons of fun and excitement.
Understanding deposit modes
Knowledge of the payment methods is essential for understanding the deposit and withdrawals on CSGO500. The platform offers two types of wagering. 
You can use cryptocurrency directly or BUX, the platform's virtual currency. 
A deposition of $1 on CSGO500 equals 1000 BUX. So, anyone can understand the conversion easily and enjoy smooth operation. 
The gamblers prefer to fund using CSGO skins.
When you make a deposit, it is affected through a P2P marketplace. The platform also has a digital currency called BUX. 
Players can deposit skins or exchange them for BUX for wagering on the casino. Each player receives the amount based on the skins deposited.
Players interested in depositing through CSGO skins can make their deposits using cryptocurrencies. 
Supporting several cryptocurrencies, CSGO500 is a paradise for crypto gamblers. They can use the following cryptocurrencies.
Bitcoin (BTC)
Ethereum (ERC20)
Litecoin (LTC)
BNB (BEP20)
Tether (USDT)
USD coin (USDC)
Tron (TRC20)
Bitcoin Cash (BCH)
Ripple (XRP)
Stellar (XLM)
EOS (EOS)
Solana (SOL)
Dogecoin (DOGE)
Avalanche (AVAX C-Chain)
Polygon (MATIC)
Cardano (ADA)
Gamblers who do not like cryptocurrencies, or are not comfortable with crypto exchanges and wallets, might use the built-in tool of the website for buying digital assets through Visa, MasterCard, Apple Pay, and Google Pay.
Stepping stones of CSGO depositions
Step 1: Register using a valid email and password on the platform, agreeing to the terms and affirming that they are over 18 years of age and do not live in a prohibited jurisdiction.
Step 2: Click on the "Deposit" tab and ensure that the Steam account is set to "Public" for making skin deposits.
Step 3: Choose the payment option for the transaction.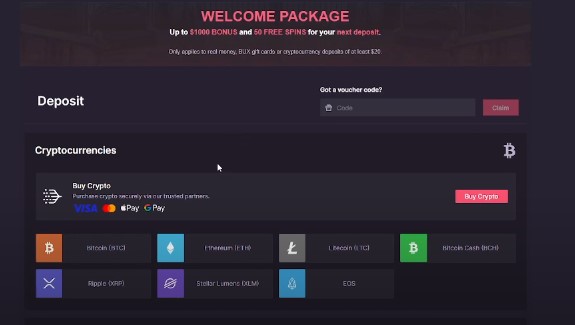 Step 4: Use external wallets like MetaMask or buy the requisite amount using the in-built tool for crypto deposition. Alternatively, use BUX gift cards and claim a 5% discount via the Kinguin cart.
Step 5: Use Visa, Paysafecard, and Google Pay to get gift cards after completing the transaction. The deposit goes to the account.
While exchanging funds for BUX is unnecessary, it is the recommended approach. 
Moreover, it is the most reliable option for wagering on CSGO500 games.
Frequently Asked Questions
Is it possible to wager real money on CSGO500?
Yes. You can make crypto deposits and wager directly. However, using BUX ensures better reliability.
What is the number of cryptos CSGO 500 supports for depositions?
At present, CSGO500 allows 16 digital coins for making deposits. It includes many options, from the standard Bitcoin to less-known Polygon and Stellar.