CSGO500 is a leading platform in the skin gambling industry, offering a wide range of games in 12 languages. 
Players love to gamble on the platform because of its easy and fast withdrawal and deposit process. But do you know how to cash out from your CSGO500 balance? In this article, we'll tell you all the details regarding the CSGO withdrawal process so you can withdraw your winnings quickly and safely.
CSGO500 Background
It is one of the first sites for skin gambling around the world. Including skins changed the game and offered gamers an unparallel gaming experience. It is a haven for those who prefer a seamless combination of quality and quantity.
It has two sections, Casino and Sportsbook, with several options. One can play Crash, Duels, Roulette, Fortune Wheel, and Plinko in the casino section. 
The sportsbook section is ideal for earning profit from eSports and sports matches. These have multiple addresses of operation. One can access the online casino and betting platform via 500play.com, csgo.com, and csgo500.io. However, all of them redirect to the same website.
Withdrawal Modes
While many websites support skin withdrawals only, It offers multiple withdrawal options. The prime and most sought-after withdrawal modes are CSGO skins. The website is also known for providing several cryptocurrencies.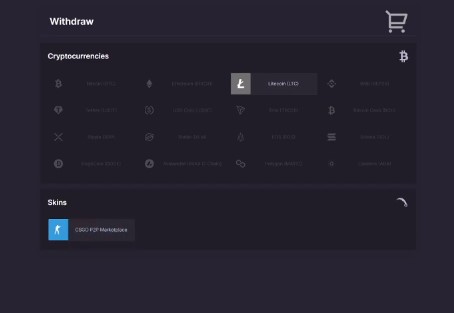 It also allows users to keep their balances in BUX other than cryptocurrencies. It is the website's virtual currency, and players can obtain this by exchanging cryptocurrencies or skins.
Players cannot wager skins directly for gaming. 
They must exchange their skin deposits to BUX for this. They should also re-convert it in equivalent skins for withdrawing their balances.
Players can also exchange BUX for cryptos or CSGO skins. However, transactions done using BUX are more efficient on the platform.
Sometimes some players experience inconsistencies due to conversion errors. Cryptocurrencies or skins worth $1 are equivalent to 1000BUX. Users need to concentrate on the conversion rate.
Are you a fan of
Counter-Strike: Global Offensive (CSGO)?
Then you must be familiar with the
CSGO500 Promo Code 2023!
It's an exclusive code that allows you to get free skins, boosts, and other in-game items.
Withdrawing CSGO Skins On CSGO500
According to outdated reviews, It accepts skin from Dota 2 and other games.
 It supports only CSGO skins for deposits and withdrawals. All transactions are completed through the P2P system of the platform.
It is essential to exchange the balance amount for skins when users intend to withdraw as CSGO as skins. 
Unlike other gambling platforms, players need not deposit skins to withdraw as skins from the platform.
Players can do it in a simple process involving only a few steps. Players must scroll the CSGO skins list and select available ones depending on their balance amounts.
Withdrawing Cryptocurrencies On CSGO500
Players can also withdraw funds on CSGO 500 through cryptocurrencies. The platform supports several cryptocurrencies and is a beautiful hub for crypto enthusiasts. Its list of cryptocurrencies includes the following.
Bitcoin (BTC)
Ethereum (ERC20)
Litecoin (LTC)
BNB (BEP20)
Tether (USDT)
USD coin (USDC)
Tron (TRC20)
Bitcoin Cash (BCH)
Ripple (XRP)
Stellar (XLM)
EOS (EOS)
Solana (SOL)
Dogecoin (DOGE)
Avalanche (AVAX C-Chain)
Polygon (MATIC)
Cardano (ADA)
Players can exchange the amount of BUX they have in their balance for cryptocurrencies. They can also prefer to withdraw the cryptocurrencies they have on their balance.
Frequently Asked Questions
The following answers to players frequently asking about the CSGO500 withdrawal system.
Is it possible to withdraw skins after depositing cryptos on CSGO500?
Yes. Players can convert the amount of BUX or cryptocurrency they have in the balance to CSGO skins via the P2P marketplace of the platform.
Does CSGO500 support cash out through Bank Transfer, PayPal, and others?
Currently, the platform supports withdrawing CSGO skins and cryptocurrencies only.