Gambling can be a thrilling experience, but it's essential to know how to withdraw your winnings safely and efficiently. Gamdom, an online gaming platform launched in 2016, allows users to do just that. 
This guide will walk you through withdrawing your winnings from the website step-by-step so that you can feel secure about your money's security and the gaming modes' transparency.
Details of Withdrawing at Gamdom
Here are a few steps that you need to follow if you want to withdraw your payments at Gamdom:
Step 1: Register on the Gamdom website .
Step 2: Click the wallet button and choose "Withdraw" from the menu.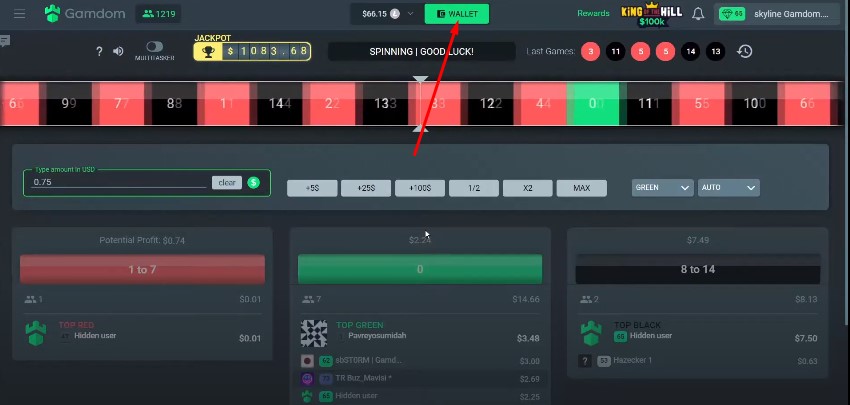 Step 3: Provide personal information such as your name, date of birth, address, and country.
Step 4: Provide a government-issued ID and proof of address, such as a utility bill or bank statement.
Step 5: Submit all required documents and wait for verification.
The location of the user has a significant impact on the accessibility of specific withdrawal methods. Although bank transfers are accessible in some countries, it is recommended to avoid depending on them when taking money out of Gamdom.
For consumers not strictly interested in skins, withdrawing money in Bitcoin is the best option. The list of advantages is further enhanced by complete anonymity and instant processing. 
Players like CS: GO, Rust, or TF2 skins can also use this payment option. The skins can be added to a Steam user's inventory and utilized for various things, including the potential to sell the item for cash.
How to Withdraw at Gamdom
Withdrawals made using skins or cryptocurrencies are typically immediate. On the other hand, players who choose banking transfers could have to wait a few days. 
The average time it takes for a withdrawal from an account to be moved to a bank account is three to five business days. This is one of the factors contributing to the efficiency of Bitcoin withdrawals. 
The transaction will probably be finished in a few seconds, whether you decide to withdraw the money on your balance in the form of Bitcoin (BTC), Ethereum (ETH), Litecoin (LTC), or Tether (USDT).
Cryptocurrency withdrawals are subject to delays only when the blockchain network needs more time for confirmation, such as when there is a lot of network traffic or processing demand. 
Gamdom's "Transactions" page, found in the wallet section, enables users to keep track of their withdrawals. This feature lets you view all deposits and withdrawals, including pending and abandoned payouts, in a single layout.
Once your withdrawal has been processed, you will receive your funds in your chosen payment method. 
The funds will be sent directly to your wallet if you withdraw in Bitcoin or another cryptocurrency. The funds will be transferred to your account if you withdraw via PayPal.
Endnote
Withdrawing your winnings at Gamdom is a straightforward process, but ensuring your account is verified and choosing the right withdrawal method for your needs is important.
Following these steps, you can safely and efficiently withdraw your funds and enjoy the fruits of your gambling success. Remember always to gamble responsibly and only wager what you can afford to lose.