Are you looking for a way to make some big wins? Duelbits could be the answer you've been searching for. 
With great odds on various gambling options, you can easily take home some big wins, but you must know how to withdraw on duelbits after winning wagers. Don't worry, though – we'll walk you through the process so you can avoid any mistakes.
You can also claim a welcome bonus using the Duelbits code right now!
Payment methods for withdrawing on Duelbits
Duelbits withdrawal methods are limited to crypt currencies and CS: Go items. The platform does not allow withdrawals in fiat currencies like USD, GBP, or EUR.
However, crypto withdrawals have enhanced security as no intermediate parties or banking entities exist.
You can withdraw funds in Cryptocurrencies like Bitcoin (BTC), Dogecoin (DOGE), Ethereum (ETH), Litecoin (LTC), and CS; GO items.
How to Withdraw On Duelbits?
Choosing the best method is the first step for withdrawal. Withdrawing skins is also advantageous, depending on your circumstances. You can sell them on marketplaces for profit or exchange them on other gambling platforms.
Opting for crypto withdrawal ensures storage in the personal wallet. You can invest or trade them or make payments.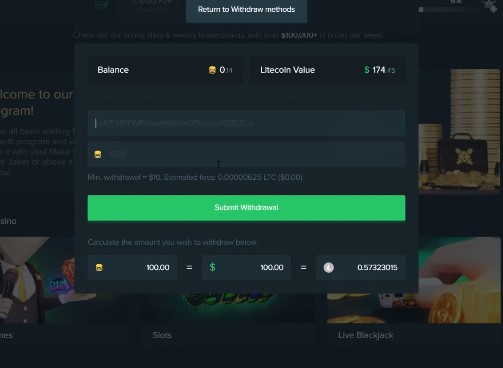 Choose wisely, irrespective of your option. Click on the "Cashier" button and then select "Withdraw." The dashboard will display the methods available for withdrawal.
Withdrawing cryptocurrencies
A crypto wallet is necessary for cryptocurrency withdrawals. You can use hot or cold wallets. Cold wallets are not connected to the internet and offer more safety. Choose the wallet that fulfills your needs and go through the following steps for crypto withdrawal.
Step 1: Select a crypto option on the dashboard.
Step 2: Enter the withdrawal amount.
Step 3: Copy the "deposit address."
Step 4: Re-check to verify accuracy.
Step 5: Paste the "deposit address" and confirm transactions by clicking "Submit Withdrawal."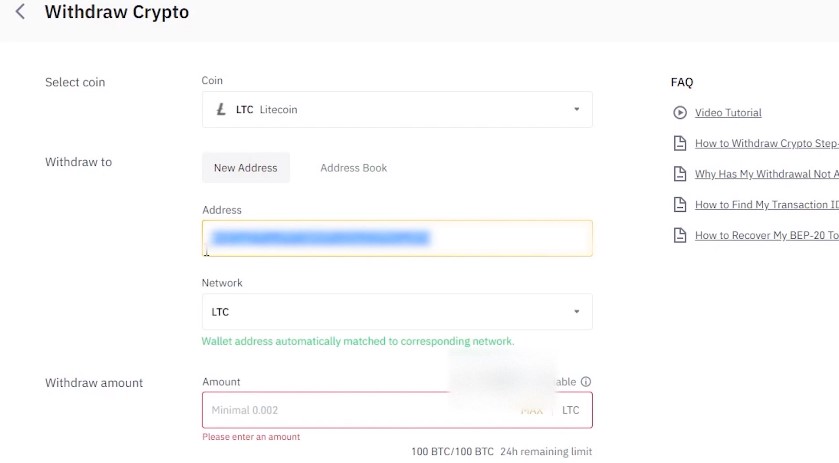 Most transactions complete almost instantaneously. Sometimes it takes longer when there is an overwhelming amount of transactions for validation. 
Always be sure of the deposit address code. Transferring to the wrong address will cause unnecessary issues and stress.
It does not charge any fees for withdrawal. The blockchain requires a small fee. Litecoin demands the lowest price.
Withdrawing CS: Go items
Put your Steam profile into "public" mode and enter the right "Trade URL" for withdrawing skins. Duelbits has an extensive list of skins for withdrawal with fairly accurate prices.
You can withdraw CS: GO skins through the following steps:
Step 1: Click the "CS: GO Items P2P" option on the withdrawal dashboard.
 Step 2: Select the skins to withdraw.
 Step 3: The green icon on the selected item indicates that the seller is online and skin is available.
 Step 4: The red icon on the selected item indicates that the seller is offline, and one has to wait for availability.
 Step 5: Click "Withdraw Selected Items" after selecting the skin.
Frequently Asked Questions
The followings are the answers to the most commonly asked questions.
Can I withdraw using credit cards or fiat currency?
Duelbits allows withdrawal using cryptocurrencies like BTC, LTC, ETH, DOGE, and CS: GO items.
Is there any withdrawal fee on Duelbits?
No. However, blockchains attract some transaction fees. You can check it on the "Withdraw" dashboard.
What to do if the crypto withdrawal is not received yet?
Crypto transactions are usually complete almost instantaneously. Duelbits might opt for a manual review of certain withdrawal requests in specific situations. It can take from 1 to 12 hours to complete such transactions. Contact the Duelbits support team for a solution if you have not received the funds after 24 hours.