Gamdom Casino happens to be a CSGO gambling site and a casino as well. It was initially a CSGO gambling website when it started. Afterward, it became a combination of a gambling website based on gaming themes with real money & a Bitcoin casino.
The website offers a fun, unique, and safe online gambling experience. It has been active since 2016, and the unique collection of games makes the website more appealing. It helps players out of boredom while they stay on the platform. This super-busy website delivers the best and allows a lot of interaction between players.
It has created a distinct identity from other websites with its diverse activities. Here are the things you should know before visiting the website.
Gamdom Review 2023
Gamdom has a simple registration process. One needs to click on the signup button in the top right-hand corner of the page. One needs to fill in user name, password, and email address and tick the age certification. Or, one can sign up through a Steam or Google account. A player has to make the first deposit after registration and can claim the first reward.
Deposits and withdrawals in Gamdom
Gamdom made methods of deposits and withdrawals better. The platform has four different methods for steam deposits:
Rust
Team Fortress 2
CS: GO
Dota2
Rust and Team Fortress 2 are the easiest among them. One can pick desired items for depositing. One receives a trade offer, and deposits get clearance on accepting the offer. CS: GO, and Dota2 work differently. They pass through a created P2P (player-to-player) system. It allows one to trade with other players instead of directly with the website.
The platform accepts Bitcoin and Ethereum. One can also make deposits via Game Money, MasterCard, Kinguin, Payop, Qiwi, Visa, and PayPal. Players can use any of the above options for making withdrawals.
Daily rewards
Claiming three types of daily rewards is possible. They have three categories; silver, gold, and emerald. When a player claims silver, the hidden level does not change and remains the same. The player receives (claim level*4/1500) dollars.
When one claims gold category, the hidden level decreases by 7, and the player receives (claim level*7/1500) dollars. And, the emerald category entails a loss of hidden-level by 10, and the player receives (claim level*10/1500) dollars. One gets more rewards as the level goes up.
Rainbot
It appears at an interval of 8 to 12 minutes in the chat lobby and is a unique feature of Gamdom. Anyone can take part in this. Once a player clicks on the pot, they become eligible to receive a share of the money in the pot. However, the players eligible to claim money get the same, and it depends on their activities. It includes two rain types Free Rain and Normal Rain. There is no requirement for Free Rains; it gives coins for free. Players who have wagered a certain amount are eligible to claim Normal rain.

 
Giveaways
They also host giveaways continuously. One has to follow them on Twitter or Instagram for this. The platform offers Cashback and Rakeback, free spins, and many more.

 
Roulette Bonus
It is another outstanding feature of Gamdom and a superb reward for players. Their Roulette has spins of randomly generated numbers from 0 to 14. One can bet on red, black, and green. Red & Black generates double profits, and green yields 14-time profits.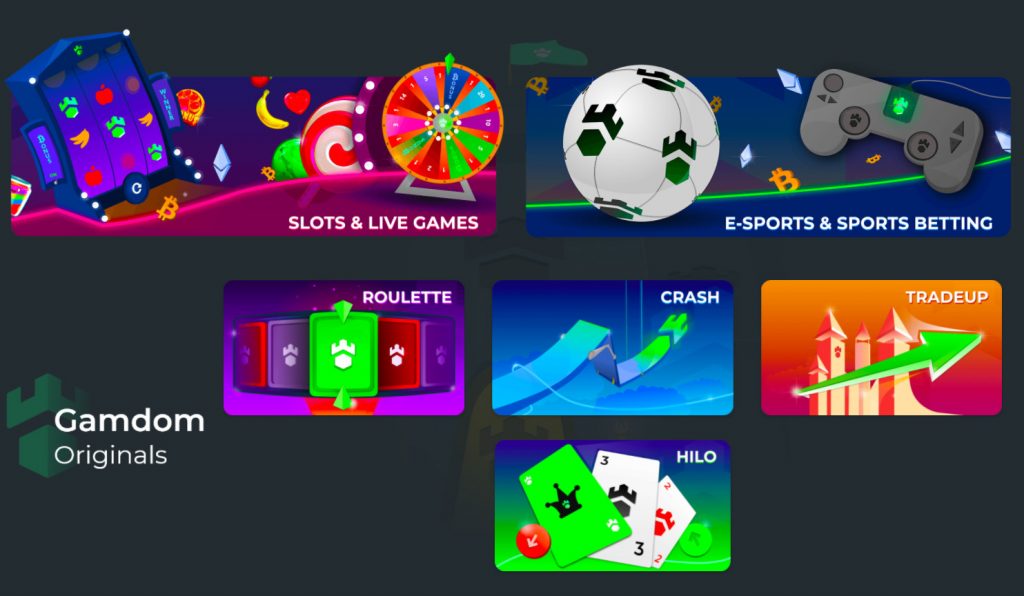 Crash Jackpot
It is a special prize for the luckiest one among the Crash players. After each round of the Crash game, some profit is kept in the jackpot. One hundred percent of the jackpot goes to the players who made a profit in the crash round when the jackpot was won. Players receive a split of the prize based on the profit in that round.
Gamdom Games Review
The website offers the following Gamdom originals:
Roulette
It has 15 slots divided into three categories; red, black, and green. Both red and black have 7 slots each, and green has only one slot. Players can bet on any color they like. When a player wins a bet in red or black, the money doubles up. Winning on green yields 14 times and is the best outcome. The game also has provision for a progressive jackpot.
Crash
It is one of the most games across gambling platforms. A moving line represents the multiplier in this game. As it moves upwards, it increases the possibility of winning more. One needs to guess the highest point and click cash out. Else, the line goes back to zero.
Trade up
Players bet coins on any of the available skins on the marketplace. Players must also deposit money to turn them into Gamdom coins or skin credits. The winning chances are based on the bet's sum and the skin's value. One can sell a skin won to the platform for a bonus of 5%, upgrade it on the next game, or withdraw.
Hilo
It is a simple card game. A player can bet on whether the next card will be higher or lower than the one lying on the table. Players can also bet on the next card's color, figure, or a number and win.
Other than the above, Gamdom offers plenty of slots and live games from different providers.
Pros & Cons
Pros
Agile and smooth website
Easy registration process
Easy navigation
Wide variety of provably fair games
Several bonuses and promotions
Fast deposit and withdrawal
On-site chatting lobby
Licensed and regulated
Includes casino games
Cons
No live 24/7 customer support. It is available through emails only.
The withdrawal process is a bit tricky. One must deposit 1000 coins and gamble with 20% of the money for withdrawal entitlement.
Summing up
Gamdom.com is a promising site with fast transactions and many games to keep players hooked. The platform also allows safe playing and delivers an amazing experience with its robust features. It is a trusted platform with original gambling games and others the players most desire. Now that you have insights, you may start playing with confidence.