RustClash Review in 2023
Maybe you are tired of looking out for a Rust Gambling site. RustClash could be the Messiah for an ultimate solution. Starting in 2021, It is an innovative site that offers case-opening services exclusively for Rust skins. 
Skin gambling is expanding its horizon every day, and RustClash plays a significant role in that. The website also lets one earn cases for free.
One can open a random case with free skins just after registration. The platform also contains a variety of Rust skins. The platform offers several gaming modes, including case opening, un-boxing battles, roulette, Plinko, mines, and upgrader. 
Players have the opportunity to grab excellent prizes. Let's take an in-depth look at the different features of the platform.
RustClash: Deposits and Withdrawals
Several ways are there to deposit funds to the RustClash account, including the following.
Google Pay
Visa
Mastercard
Paysafecard
Trustly
CSGO skins
Rust skins
Bitcoin
Ethereum
Litecoin
Dogecoin
It offers fast and safe withdrawal of funds. Players can convert skins into funds for withdrawal via Steam accounts. Alternatively, they can trade skins and withdraw via PayPal. Withdrawal methods include
Rust Skins
Bitcoin
Litecoin
PayPal
Venmo
Design & Layout

Although a reasonably new gambling platform, RustClash is compatible with Desktops, Tablets, and mobile. 
The page displays clear and crisp graphics making the page highly visible. The website also offers smooth and seamless running.
Players can click the green "Sign In" button at the top right-hand of the page to sign in using Steam accounts or Google. 
One has to provide an email address and password for registration. Available game modes have clear labels for convenience.
Bonus and Promotions
It offers several bonuses and promotions for beginners and regular players. Beginners can claim free cases by entering the referral code. 
They can also use them to fund the account and to start playing. The website also offers easy signing up within minutes through a Steam account.
The platform has other rewarding bonus offers besides promo codes for claiming freebies. 
It also gives gamblers a part of the wagered amount as a rakeback. First-level players are eligible for a Rakeback of 0.25%. It rises to 0.75% upon reaching level 150. However, the "Leaderboard" is the best bonus option available on the platform.
RustClash: Games
It offers Cases, Case Battles, Plinko, Upgrader, Roulette, Mines, and Jackpot.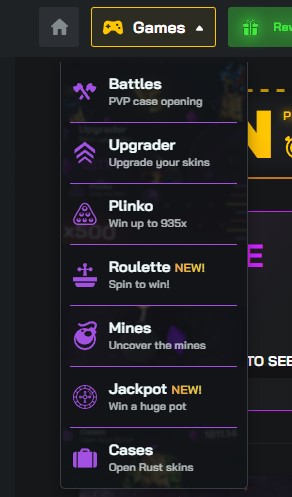 Cases
:
It is primarily a case-opening site; cases are the first activity they offer in its gaming section.
The cases are categorized as Classic, Youtuber, Trending, and Popular. One can pick cases and check the skin quality and skin value. Players are free to open or skip them. The value of the skins could be higher or lower than the stake.
Case Battles: 
In this game, a player faces other players who select valuable goods.  
The group opens their cases together and checks the value. The player opening a case with the highest value wins the battle and contents of all cases.
Upgrader:
Players can try to upgrade their skins while playing this game. They need to choose the upgrade amount of skin.
It is safe to opt for a 2x skin upgrade than a 10x skin upgrade. Choosing a high-value upgrade increases the chance of losing. Players lose the skins placed for an upgrade if the algorithm does not upgrade them.
Provably fair games
It has a provably fair system. It depends on a computer algorithm and delivers randomly generated results without bias. The algorithm always determines results before players start wagering. I
It is not possible to change the outcome. Each result has a hash (number ID). Players can always check the results of earlier games for fairness and transparency. 
The platform is further protected by high-end security measures, making RustClash trustworthy.  
Customer Support
It offers customer support and service through the live chat option. It operates 24/7, and customers can get quick replies to their queries. It is available in English, Ukrainian, Spanish, Russian, German, and Balkan languages.
The platform also offers technical support via email. The website also has a FAQ section that answers players' frequent queries. 
It contains clear and concise answers that help to address problems without contacting the technical team.
Coin exchange on RustClash
The platform offers a 1:1 exchange rate for all skin prices in US dollars. It greatly increased the platform's popularity as players know how much they have on the balances.
Skins won undergo an automatic transformation into balance which players can redeem in the onsite storage of the platform.
User Experience
The platform's well-organized design and layout offer easy and fluid navigation through the website. 
It also offers easy registration. It emphasizes Rust Skins and Cases. All these help to deliver an excellent user experience.
Pros & Cons of Rustclash
Here is a list of some of the pluses and minuses the website offers
Pros
Case opening
Free case earnings without any deposit
Fast and easy registration
Offers promotions and bonuses
Entertaining gambling options
Provably fair games
Live chat support
Cons
RustClash reputation
Despite its recent launch, the platform has built a good reputation. Independent reviews and general reactions indicate that.
Is RustClash Legit?
RustClash is registered in Cyprus and has an SSL-encrypted website. This is evident from the address bar's padlock icon at the top left-hand corner. 
The website has been running smoothly since its inception without any security breaches, scams, and fraud. It is legit, with provably fair games and a fast withdrawal system.
Summing up
The site allows users to open cases. It also offers enjoyable games and offers fast transactions. The deposit, withdrawal, and customer support are fairly good. 
The site includes provably fair games, so they yield randomly generated results without bias. Players can enjoy responsible gambling on this legit and safe Rust site.