If you're a Counter-Strike: Global Offensive (CSGO) fan, you know how attractive the game's skins can be. But the game also offers something else the opportunity to open cases for skins.
This can be a great way to get skins at great prices, but knowing which cases to open is challenging. 
To help, we've put together a CSGO Cases Review to give you all the information you need to make an informed decision.
CSGO Cases Review in 2023
CS:GO Cases has great popularity among the CSGO community. Players can open the in-game cases using the in-game keys. Each case needs a specific key for opening.
 A player gets the skins contained in the case opened. This is a super exciting process as players stand a chance to get rare skins and make a profit. 
The platform has a wide variety of cases, including some free cases. The price of the cases also widely varies.
Registration
The platform offers an easy registration process. Players must visit the website and click on the 'Sign in through Steam' button at the top right-hand corner of the page. 
Then one can sign in by providing the user name and password in the required fields and clicking the 'sign in' tab. One should take time to check the offers rather than buy them in a hurry.
User Experience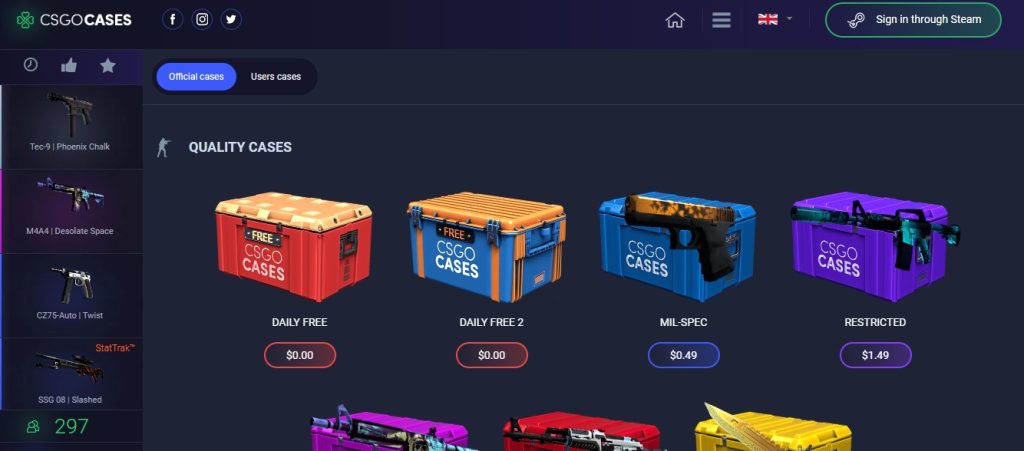 The website works fast and delivers skins in a few seconds only, entailing an excellent user experience. 
The user can send or sell virtual items. Without a decision within 31 days, the items undergo automatic sale.
Payment modes 
Deposits are allowed in many ways, including the following.
Bitcoin
CSGO P2P trading
CSGO skins
G2APay
Visa
Withdrawal modes include:
CSGO P2P trading
CSGO skins
Best CSGO case to open
CSGO cases are an integral part of the game. The cases contain skins that can use to play or sell on the platform. Below are some of the best cases to open.
1. CS20 Case
The case opens at $1.49. It contains 19 items: a classic knife, AWP Wildfire, Tec-9 Flash Out, MP9 Hydra, P250 Inferno, M249 Aztec, etc.
 This case was designed to pay homage to the past, present, and future. Every item, in this case, is unique and worthy to include in the inventory.
2. Revolver case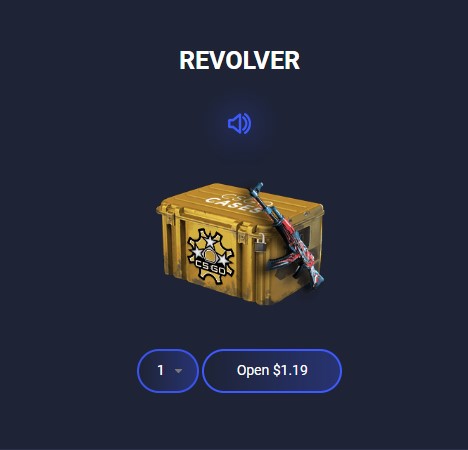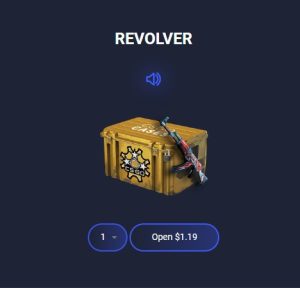 It opens at $1.19 and contains twenty CSGO items. It is an excellent option for pistol fans and includes P2000 Imperial, R8 Revolver, Five-Seven Retrobution, Tech9 Avalanche, M4A4 Royal Paladin, Flip Knife Ultraviolet, Desert Eagle Corinthian, SG553 Tiger Moth, and others. 
So many pistol skins in one spot increase the chances of winning.
3. Horizon Case
The case opens at $2.99 and contains nineteen CSGO items. The case includes skins like Talon Knife Ultraviolet, AK-47 Neon Rider, Desert Eagle Code Red, M4A1-S Nightmare, AWP Paw, FAMAS Eye of Athena, CZ75-Auto Eco, MP9 Capillary, and others. Containing such well-designed, stand-out skins, the case is worth opening.
4. Chroma 2 Case
It opens at $1.19 and contains some of the best options for opening cases. The case includes Gut Knife, Lore, Karambit Case Hardened, Mac-10 Neon Rider, AK-47 Elite build, MP7 Armor Core, Negev Man-o-war, Galil AR Eco, and others totaling seventeen together. One can always be happy with whatever items the case delivers.
5. Clutch Case
The case opens at $1.79. It contains fourteen items: Driver Gloves King Snake, Moto Gloves Polygon, M4A4 Neo-Noir, UMP- 45 Arctic Wolf, MAG-7 swag-7, Glock-18 Moon Rise, AWP Mortis, and others.
 These community-designed weapons and gloves skins come with sleek designs and have attractive dark colors. These are ideal to terrify the enemy.
6. Gama 2 Case
One can open it at $0.99. The case contains twenty-one items. They include Flip Knife Autotronic, AK-47 Neo Revolution, Tec-9 Fuel injector, MP9 Airlock, Glock-18Weasell, G3SG1 Ventilator, Negev Dazzel, SCAR-20 Powercore, and others. 
They have cool designs and are one of the best skins that one can have in CSGO case openings.
7. Prisma case
It features some of the best skins that one can be happy with. The case opens at $1.99 and contains twenty weapon skins, including Stiletto Knife Slaughter, Ursus Knife Night Stripe, AUG Momentum, Desert Eagle Light Rail, MP& Mischief, MAC-10 Whitefish, and others. With all these unique skins, this case is worth opening.
8. Gama Case
It opens at $1.19 and contains twenty-one items. The case has a collection of weapon skins, including Bayonet Autotronic, P2000 Imperial Dragon, p90 Chopper, MAC-10 Carnivore, SG 553 Aerial, Glock-18 Westland Rebel, R8 Revolver Reboot, and others. One can sell them at special prices.
Pros & Cons
Pros
Includes cases having good values
Contain free cases
Operates with SSL encryption
Wide selection of deposit methods
Clear and attractive graphics
Cons
Frequently Asked Questions
Below are the concise answers to frequent queries.
What Are CSGOcases?
It is a premium site for case opening, selling millions of skins to gamblers worldwide.
Is CSGO Case Opening Safe?
It is safe to play with a proper license and be loaded with SSL encryption and other security measures. 
Is CSGO Case Opening Legal?
Yes. Licensed CSGO case opening sites are legal. However, one must check if the country's local laws allow the same.
Is It Available On Mobile?
It runs well on mobile devices and delivers great fun and excitement.
How to Withdraw Skins?
For this, one must select skins for withdrawal and click the 'send' button. Next, one should visit the Steam page and accept the exchange offer for a quick transfer.
Conclusion
The site focuses on purchasing cases and opening them to check skins inside. It offers great fun and excitement without any hassles. It supports fast transactions that come as a bonus.
The platform is user-friendly and delivers a great user experience. While many such sites are available online, personal preference also plays a great part in picking the best.