How to Deposit from Binance
Binance offers some unique chains for sending crypto. You should avoid the BEP chains when depositing – read here for a guide! Firstly, in order to send cryptocurrency to Roobet, you will need to copy your respective deposit address from Roobet for the currency you wish to deposit, then head to the
'Fiat and Spot'
section of your Binance wallet. Once done, you will then need to click the 'Withdraw' button on the page and select the cryptocurrency you wish to deposit to
Roobet
with.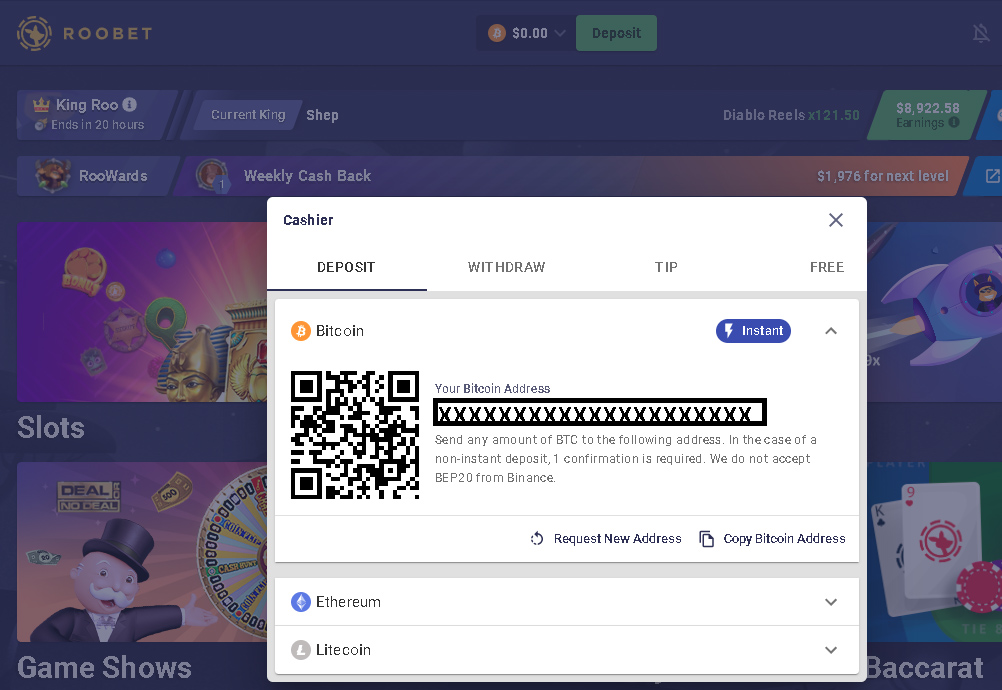 Once you have completed these steps, you will see the Withdrawal page with all the details needed to fill out in order to complete your deposit to Roobet such as your deposit address as well as the amount and network as seen below.
Each cryptocurrency option on Roobet (Bitcoin, Ethereum, and Litecoin) has its own network that it needs to be sent over in order to be credited, otherwise the deposit will not go through to your balance: Bitcoin: BTC Ethereum: ERC20 Litecoin: LTC
Any other Transfer networks (BEP20, BEP2 etc.) won't be accepted by Roobet and your deposit won't go into your balance.
Once the information is filled out and you hit 'submit!' your transaction is sent, it will arrive in your balance as soon as it is confirmed on the network.

Does Roobet Charge Withdrawal Fees?
Roobet does not charge any withdrawal fees. However, their are network fees for every transaction sent through the blockchain or Ethereum network.
These fees are determined by the ever-changing price of cryptocurrencies as well as the high volume of transactions that may be going through the blockchain or Ethereum network at that time. For Bitcoin the transaction fee can be found at the bottom of the withdrawal page of the Cashier window. You will also notice there is a priority option – Low will be the slowest withdrawal speed, but will also be the smallest transaction fee, Medium will be faster than Low, but slower than High, and High will be your fastest withdrawal fee, but also your highest transaction fee.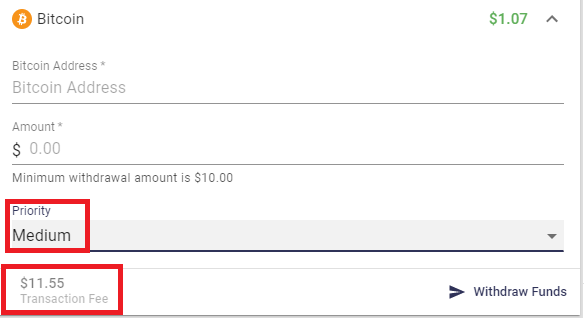 For Ethereum, just like Bitcoin, your transaction fee can be found at the bottom of the withdrawal page of the Cashier window. When withdrawing with Ethereum, there is no need to worry about selecting a priority.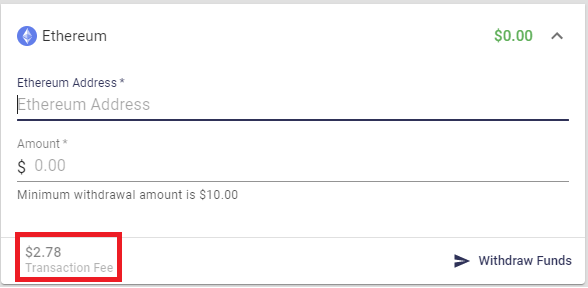 I Have Not Received My Withdrawal
We send all withdrawals instantly, as soon as they are requested. Unfortunately, we do not have a given time of when your withdrawal will arrive into your wallet as the transaction must be confirmed by the blockchain. You are able to track your deposit by putting the transaction ID from under the notifications' tab in the search bar of
https://www.blockchain.com/explorer?utm_campaign=expnav_explorer
for BTC,
https://live.blockcypher.com/
for LTC, or by using
https://etherscan.io/
for ETH . It is not abnormal for your withdrawal to come through at a later time, as this is dependent on its confirmation. Each wallet has their own confirmation requirements we just need to wait for your transaction to be confirmed on the blockchain. You would have to contact your wallet provider for more information regarding their requirements. The time the confirmations can take varies quite a bit and is totally reliant on the status of the blockchain, you do not have to do anything further at this time. Hold tight and you should receive your withdrawal soon.