Hellcase could be the right destination for winning exciting skins. Players can open virtual cases for CSGO, Dota, and Rust games on the platform. Starting in 2016, the platform enjoyed millions of users because of its fair games that deliver random outcomes without bias. 
The platform has a good design with a dark background and stunning visuals and keeps players absorbed for hours.
Hellcase Overview
Other than being a CSGO case opening site, It offers trading of skins and some games. Players can purchase CSGO crates on the website at different prices, from a few cents to several hundred dollars.
The platform further offers Upgrade and Case Battle games for skins. The contract is another feature of the platform.
Players can exchange multiple skins of low value with high-value skin. Esport betting is not available on the Hellcase platform.
Deposits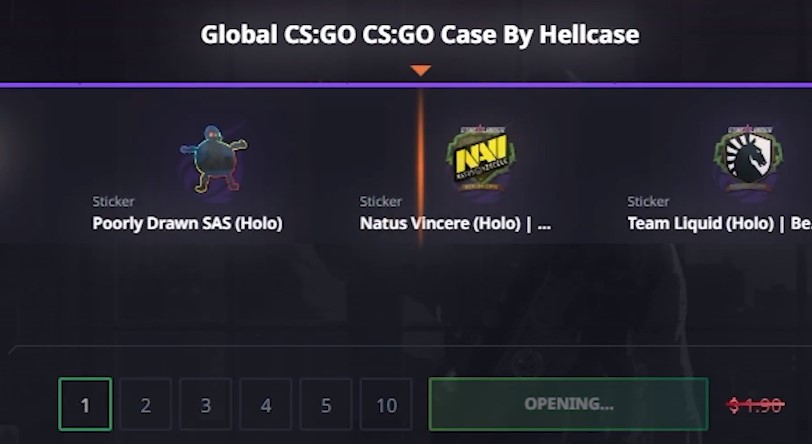 Deposits and withdrawals are important elements of gambling activities. People judge the suitability of gambling platforms based on these factors.
It offers an extensive collection of CSGO and Dota 2 cases. Players can use real cash to purchase them and subsequently open them to win new skins.
Players can easily start playing on Hellcase. They can log in on the platform by using their Steam accounts. The platform supports various payment modes for depositing players' accounts.
This might vary depending on the country location of players. The deposit mode includes Cryptocurrencies like Bitcoin and Ethereum, Visa, MasterCard, and G2A. Players can also use a G2A Hellcase card for this.
The website activates the card as one enters the Hellcase Wallet card code, and funds are deposited in the players' accounts. Once the deposition is complete, players can select the cashier and open it by clicking.
Withdrawals
It also features an easy and simple withdrawal process.
Players must go to the profile and tap the 'send' button on the items they want to withdraw.
Next, they have to click 'Get' as soon as the trade offer is ready and wait for trading on Steam.
The platform also has provisions for selling and exchanging skins. 
Getting money from Hellcase
Multiple ways are available to get money on the Hellcase platform. Players might sell the skins they have won. They can also sell skins that they get from opening cases.
The platform also offers several bonuses, rewards, and promotions. One can also win a free case. The platform supports the following modes for withdrawing money from the account.
Bitcoin (BTC)

Ethereum (ETC)

Waxpeer P2P marketplace for skins

Tradit skin trading bot

Lootbear
These have minimum withdrawal requirements and attract transaction fees. Payments are usually made within an hour. Players should contact Hellcase if the time taken exceeds the one-hour limit.
Hellcase Benefits & Burdens
Benefits
Huge skin selections to choose from.

Includes custom cases for Dota 2 skins

Interactive sounds deliver a great user experience

Trade up contracts

Regular bonuses, giveaways, rewards, and promotions

Available in several languages
Burdens
No 24/7 live chat support. It uses a ticketing system.
Frequently Asked Questions
What is the minimum withdrawal amount?
It is $25 for Bitcoin and $2 for all other withdrawal methods. 
Is there any maximum withdrawal limit?
Players can withdraw up to a maximum of $500 in one day.
It happens when all items listed in the case are not available. These are listed like that until the missing items are added.
What are Skin Shards?
Every time a player opens a case on Hellcase, they will receive a bonus drop of Skin Shards. Players can get skin if they collect four shards of the same skin.
What is the cost of a Premium subscription?
The Premium subscription costs $5 a month.
Is Hellcase legit?
Yes. The platform has served millions of registered users with good reputations since starting in 2016. It indicates that the platform enjoys the trust of the users. All games are backed by a provably fair system ensuring random, fair, and transparent results.
Can Steam Wallet funds be used for opening cases?
No. Players have to deposit using Cryptocurrency, Visa, MasterCard, and G2A.
How do giveaways work?
Players can access it by clicking the 'Giveaway' button. Players completing the necessary tasks receive giveaway entries. Each entry increases the probability of getting the best skins.
What to do if the amount is not transferred to the profile?
Sometimes payment could delay for 5 to 10 minutes. Players should contact the support team with payment details if the money is not transferred within an hour.
What are Hellcase Daily Bonuses?
This feature rewards players with skins for visiting the platform every day. It has a waiting period of 24 hours for another use after claiming the daily bonus.
How to withdraw items from the case bought?
Players must go to their profile and tap the 'Send' tab on the item they want to withdraw. Next, they should tap the 'Get' button to get redirected to Steam for trading.
What are Farm cases?
These are meant for big purchases. Players either receive low-value skin or an expensive one. The cost of the cheap skins gets returned to the balance after their automatic sale. Players can upgrade, sell, or upgrade rare skins.
How to collect tokens?
Players can get tokens by purchasing cases during events. The probability of dropping cases is different for different cases.
What are case battles?
Case battles involve multiple players. The player with the highest total cost receives all skins.
How to join a case battle?
Players must go to the case battle page for this, find a battle waiting for players, and join.
Summing up
It is a high-quality site focusing on case openings. The trade contracts offer unique opportunities to upgrade skins.
The platform also offers straightforward methods for deposits and withdrawals. Hellcase is an excellent platform for opening CSGO cases and skin gambling.